Air Conditioning Service, A/C Service & Air Conditioner Service

Dalton, GA, Rocky Face, GA, Ringgold, GA & Fort Oglethorpe, GA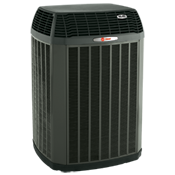 While the rewards of regular cooling system maintenance are proven cost-effective, not all HVAC contractors uphold the same standards of workmanship.  Contact the professionals from Air Comfort HVAC at 706-952-4197 for proactive services in Dalton, Chattanooga, and surrounding areas with complete confidence. We stand behind our results with a 100% Satisfaction Guarantee.  Continuing to uphold a well-earned reputation for doing the job right the first time, we take the best possible care of all makes and models of air conditioners.
A/C Service in Rocky Face, GA | Air Conditioning Service Fort Oglethorpe, GA | Air Conditioner Maintenance Dalton, GA
Starting with a friendly and knowledgeable voice on the phone, we follow up with convenient scheduling, on-time arrival, and tidy job sites.  There's no mess, damage, or unnecessary disruption to your home, and all work is completed without delay. As a Trane Comfort Specialist, our extensively trained and qualified technicians adhere to rigid and meticulous inspection, cleaning,
installation
, and tuning procedures to promote peak performance.
With regular air conditioner service from Air Comfort HVAC, you'll be cool all summer!
Restored energy efficiency levels, operational sounds, and cooling capacity are combined with greater reliability, healthier air quality, superior overall comfort, and extended service life. Providing service throughout Chattanooga, TN, Dalton, GA, East Ridge, TN, Fort Oglethorpe, GA, Ringgold, GA, Hixson, TN, Harrison, TN & Rocky Face, GA… Your Comfort is Air Comfort.
Air Conditioning Service

∴

Air Conditioner Maintenance

∴

A/C Service

∴

Air Conditioner Service ∴ Dalton, GA ∴ Ringgold, GA ∴ Fort Oglethorpe, GA

April 24, 2018

2023/09/21