The team of technicians and staff at Air Comfort HVAC are dedicated, experienced, and work together to ensure top quality work and customer satisfaction.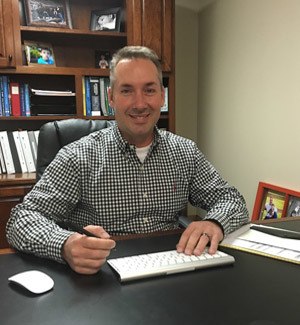 JEFF CASS
Owner
Jeff is the owner of Air Comfort HVAC. He was born in West Palm Beach, FL where he grew up. He began his career in the HVAC industry as early as high school working for a small company performing installations and service. In 1993, Jeff took the Florida HVAC Contractors exam and became the youngest to ever pass the rigorous test. Jeff founded CASS Air Conditioning in 1994 and grew the business successfully until 2003 when he sold the business and moved his family to Ringgold, "I really wanted a better place to raise my kids…north Georgia had so much to offer to someone looking to raise a family." Jeff started with Air Comfort in 2003 and served as the General Manager for 12 years before purchasing the company in 2015. After working diligently, Jeff now holds a HVAC license in Florida, Georgia, and Tennessee. Jeff spends time with his wife of 20 years, Beth, and their four children: Mikayla, Brandon, Bradley, and Andrew. Jeff has a passion for flying and holds a Transport Pilot Certificate. In addition, he's a Certified Flight Instructor for single engine, multi engine, and instrument flights.
---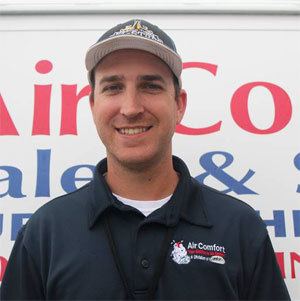 JASON BLACK
General Manager/Product Specialist
Jason Black is an HVAC service technician that has been with Air Comfort since 2005 He was born and raised in Ringgold, Ga. While he attended Georgia's Northwestern Technical College in Walker County for his heating and air technical training, he worked as an installer with Air Comfort. This provided him with a firm foundation to build his knowledge. He has personally assisted in hundreds of installations, dozens of which were Carriers most advanced products, the infinity system. In 2007 Jason finished his technical training and moved over to Air Comfort's service department. Jason is an avid hunter and outdoorsman. You'll find him most weekends in the woods or at a local ball field with his wife, Kim, and two boys: Deven and Jackson.
---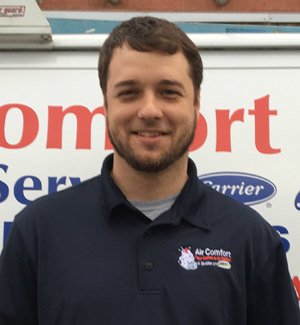 SAM NUNLEY
Service Manager
Sam Nunley has worked for Air Comfort since 2001. His first job was as an installer, where he excelled. After he received his diploma from Northwestern Technical College in HVAC, he moved into the service department. His abundant experience installing systems has served as a solid foundation for this transition. Like Jason, Sam is an avid outdoorsman. Sam enjoys spending time with his wife, Kayla, and heading to the woods whenever he can.
---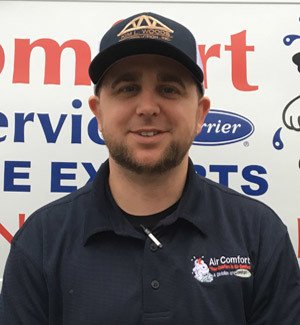 RICHARD PACHECO
Service Technician
Richard was born and raised in Dalton, GA. Richard, like all of our other service technicians, attended Northwestern Technical College. He joined Air Comfort in 2006 and has been a tremendous asset. Always willing to do whatever he's asked with a positive attitude, Jeff says Richard can, "do it all!" Richard and his wife, Brooke, have a little girl, Aspen. When he's not spending time with them, you are likely to find him hunting with Sam and Jason.
---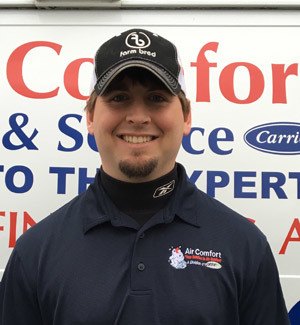 ADAM STEALMON
Service Technician
Born and raised in Dalton, Adam has been with the Air Comfort Service team since 2013. After graduating from Northwestern Technical College, he has proven to be a highly skilled technician and a valued asset to the department. Fishing, golfing, and hunting have taken a backseat to spending time with his wife, Brandi, and young son, Tavyn. Adam adores his son and never passes up the opportunity to spend time with him.
---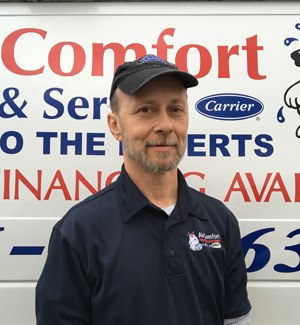 BRYAN YOUELL
Service Technician
Bryan too was born and raised in Dalton, GA. Bryan is gifted working with electrical and mechanical devices and has an extensive background. HVAC was a great fit for him. After graduating from Georgia Northwestern Technical College, he joined Air Comfort as an installer and worked his way to the Service Department. Bryan spends most of his spare time in church, providing inspiration to so many.
---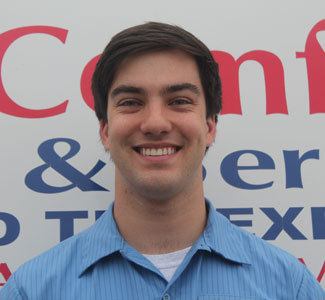 AJ CARLISI
Service Technician
AJ Carlisi has been with Air Comfort since 2015 as an installer, working towards joining the service department. AJ was born and raised in Dalton, GA and graduated from Chattahoochee Technical College's Air Conditioning program. Along with his HVAC diploma, he is working to finish his associate business degree. AJ spends most of his spare time working on and racing his dirt late models.
---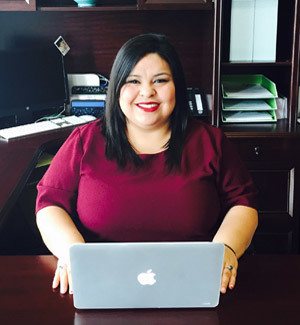 MARIA ALMODOVA
Office Manager
Maria Almodova is the Office Manager at Air Comfort. She has been a valuable part of our team since 2006. The title Office Manager simply doesn't cover the full scope of responsibilities Maria handles on a daily basis. No matter how hectic her day gets, she always maintains cheerful attitude and is a pleasure to work with. Away from work Maria likes socializing with friends. She is a sports fan. Her favorite team is the Georgia Bulldogs. GO DAWGS!!
---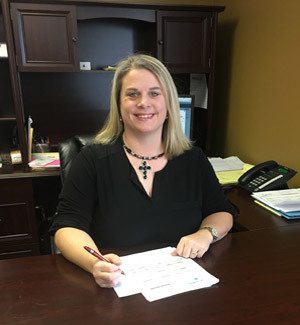 DEBRA HOLSOMBACK
Installation Coordinator
Debra is our newest member to the Air Comfort family. She started in 2015 as our install coordinator. She brings with her a lot of office experience and has great customer service skills.Born and raised in Ringgold, she has been married for 16 years and has 2 daughters: Holyn and Haylee. She loves spending her weekends at the ballfield watching her girls play softball.
April 24, 2018
2023/02/03